United Methodist Women - Western North Carolina Conference
Turning faith, hope and love into action on behalf of women, children and youth around the world
Greetings from
Brooks-Howell Home!
We are delighted to share the latest issue of the Serendipitor, the newsletter of Brooks-Howell Home. Brooks-Howell Home is a retirement home owned and governed by United Methodist Women through the United Methodist Women National Office.
Visit the Brooks-Howell Home website at:
www.brooks-howell.org
The Serendipitor is published at least six times during the year. It is sponsored by the Brooks-Howell Auxiliary and is written by and for residents, staff and friends. It focuses on people and current happenings, features past and coming events, and points the way to creative Christian living.
Serendipitor
Read the latest news from Brooks-Howell Home! Click the link below to open a PDF of the Serendipitor!
Please Note: This file requires the free Adobe Acrobat Reader Version 7.0 or higher. You can subscribe to our email list to receive a link to the Serendipitor each time it is published. Just click here to visit the sign up site for our email list. Choose the Brooks-Howell Home Serendipitor list, and any other list that you would like to join.
What makes Brooks-Howell unique? We are a community of deaconesses, home missionaries, missionaries and others who have answered God's call to mission service here and throughout the world.
Our Motto:  Called. Served. Serving Still.
Brooks-Howell Home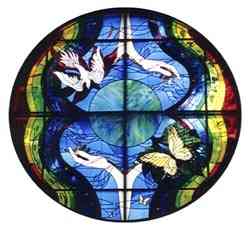 The Covenant Window, located in the Brooks-Howell Home Chapel, was designed by Sylvia Smyth, a resident of Brooks-Howell. Sylvia's design is inspired by the thread of Covenant Relationship that runs through the Bible. She calls the symbols "Signs of Promise." In the window we see a dynamic circular movement. To the left, the Creator God initiates with grace the outpouring of the Holy Spirit and the gift of God's Son our Savior. To the right we respond with faith, we are changed and drawn back to our Heavenly Father. We experience the Covenant Relationship in our past, present and future. Brooks-Howell Home's motto speaks to this: CALLED - SERVED - SERVING STILL.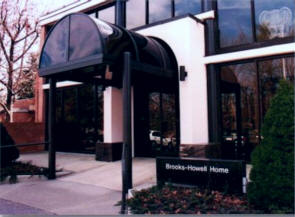 Brooks-Howell Home
266 Merrimon Avenue
Asheville, NC 28801-1218
Phone: 828.253.6712 / Fax: 828.252.7071
Executive Director: Brewier Welch
Owned and governed by United Methodist Women, Brooks-Howell Home is open to retirees and staff of United Methodist Women & predecessor organizations, missionaries of the former National and World Divisions (now the General Board of Global Ministries) and others approved for residency.
Brooks-Howell is a HOME. Residents, primarily deaconesses and missionaries, are a diverse and stimulating group who have served God through service to others around the world. They bring reflections of many cultures which enhance life and activities in the community.
Independent living for singles and couples is available in one and two bedroom apartments, two room suites, single rooms, and a cottage. Each unit has been tastefully decorated by Brooks-Howell. Residents may bring personal furnishings which help them feel "at home."
Activities and programs are designed to maximize individual response and participation with leadership coming from a Residents' council and staff. Spiritual development, social activities and cultural events are planned into program opportunities.
Health care services, under the direction of registered nurses and a medical director are recognized in the community and by regulatory agencies as being excellent. Physical, occupational and speech therapy services are available in-house. Brooks-Howell's outreach ministry makes health care beds available to persons who are not otherwise eligible for residency.
The motto of Brooks-Howell Home is: Called. Served. Serving Still.