United Methodist Women - Western North Carolina Conference
Turning faith, hope and love into action on behalf of women, children and youth around the world

Greetings from
Brooks-Howell Home!
Brooks-Howell is a not-for-profit charitable continuing care retirement community owned by the United Methodist Women located in Asheville, North Carolina. Originally established as a retirement home for United Methodist deaconesses and missionaries, it has evolved into a community that now includes United Methodist Church members who have served the church for more than 10 years. In addition, Brooks-Howell offers long-term care open to all.
Visit the Brooks-Howell Home website at:
www.brooks-howell.org
Serendipitor – The Brooks Howell Home Official Newsletter
The Serendipitor is the newsletter that captures the life and times of Brooks-Howell. If you would like to receive a copy via email or postal mail, please contact Brooks-Howell. 
Current and previous issues are available on the Brooks-Howell website.
Please Note: This file requires the free Adobe Acrobat Reader Version 7.0 or higher. 
"Brooks-Howell has it all! A living legacy for the saints to carry on their work in a caring, loving community and is filled with life, love, and Christ's hope for the world. There is no finer place to rest assured that God is ever-present and cares for us always with joy and happiness." Member, United Methodist Women.
Brooks-Howell's amenities include a heated therapeutic pool, beauty salon, gardens, nature trail and more.
Brooks-Howell Home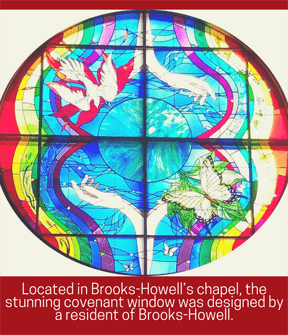 The Covenant Window, located in the Brooks-Howell Home Chapel, was designed by Sylvia Smyth, a resident of Brooks-Howell. Sylvia's design is inspired by the thread of Covenant Relationship that runs through the Bible. She calls the symbols "Signs of Promise." In the window we see a dynamic circular movement. To the left, the Creator God initiates with grace the outpouring of the Holy Spirit and the gift of God's Son our Savior. To the right we respond with faith, we are changed and drawn back to our Heavenly Father. We experience the Covenant Relationship in our past, present and future. Brooks-Howell Home's motto speaks to this: CALLED – SERVED – SERVING STILL.